The Christian Journal for Global Health has issued a call for papers on Sustainable Development and Human Flourishing for the 30th annual Christian Connections for International Health conference (June 17-19, 2016 at Johns Hopkins University in Baltimore, MD, USA).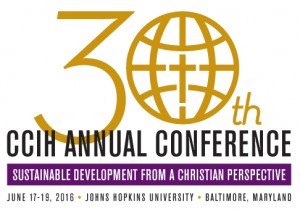 Sustainable Development and Human Flourishing
The public sector is increasingly recognizing the key role of religious health assets in sustaining progress in development.  Community health workers are increasingly recognized as a vital element in health service equity and education.  Christian churches and faith-based organizations are in a unique position to participate in conversations at the local, regional and international level on what constitutes human health and well-being, to mobilize health-promoting assets in the least-reached areas; and to integrate health service as part of the gospel.  In order to retain credibility for this work and message, Christians are called to use contextual language, to measure, evaluate and report outcomes, and to practice faithful presence throughout the world. (Source)
In addition to general submissions, they are calling "for papers from authors seeking to participate in conversations about heath, human flourishing, development, community health evangelism, social justice, and global health access to share their insights, reflections and research" (Source).
Potential topics of interest to CSCA folks might include:
A Christian definition of health using global health terminology.
Community development in low and middle income countries.
Networking and cooperation between faith-based organizations and the public sector.
How the gospel relates to physical, emotional and social health in community.
Outcomes of interventions for health promotion and disease prevention.
Community health evangelism/education and the call for mobilizing community health workers.
Effective Christian participation in centers of global health thought.
How measurement and evaluation in FBOs enforces donor development and influence.
Developing effective health programs in creative-access countries.
The value, theology and risk of goal-setting and evaluation.
The deadline for initial submissions for Volume 3, Issue 1 is 31 March, 2016.