CSCA members in the Vancouver area may be interested to attend this free, public lecture presented by the Geneva Society at Trinity Western University.
"A Christian Spirituality for Hopeful Earthkeeping"
Maybe you are worried that humanity is not doing a good job in caring for God's creation, but are uncomfortable about embracing the creation care movement. Maybe you are serious about the call to care for God's creation, but are worried that all the accompanying "earth-talk" is not really helping in setting our hearts and minds on things above. In this lecture a Christian spirituality for earthkeeping is proposed that starts with who we are as believers in participatory communion with Christ. The theological anthropologies of diverse Christian thinkers such as Augustine, Moltmann and Calvin will be brought into discussion with each other to help clarify what the shape of such an earth-keeping ethic would look like. Listening to the living God who calls, and faithfully walking with Him by being a blessing to all of creation, is the only real sustainable alternative to modern culture's stark and lifeless choices. The lecture will end with some reflections on the importance of understanding our vocations and the ethical shape for Christian hopeful living amidst economic and ecological crises. (Source)
SPEAKER: Martin de Wit, who holds a doctorate in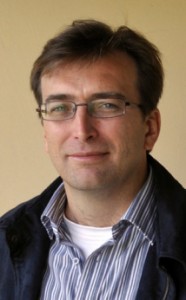 economics, is a student in theology at Regent College and prior has worked for 15 years as an environmental economist. Most of Martin's research and consultancy work to date has focused on the economics of environmental and natural resources as well as the interactions between ecological and socio-economic systems in developing countries, notably in South Africa and China, applied to challenges related to climate, aquaculture, forestry, waste, water quality, ecological restoration and nature conservation. He serves on the board of ASSET
research (Africa's Search for Sound Economic Trajectories), a non-profit organization focused on capacity building of post-graduate students in the fields of economics, ecology and development. Martin and his family are members of Cloverdale Canadian Reformed church. (Source)
NOTE: Immediately after the lecture, there will be a response by Jerome Lengkeek of Fourth Watch African Investments, submitted remotely from Zambia.