Everyone is welcome to attend this free public lecture in London, Ontario, co-sponsored by The Kuyper Centre for Emerging Scholars, Talbot Street Church, and CSCA.
Speaker: Arnold Sikkema, professor of physics, Trinity Western University; president, CSCA; fellow in physics, The Paideia Centre for Public Theology.
Title: "Engaging God's Word & World: Christian & Scientific Perspectives on the Origins Conversation"
Registration is not required.
Join, Share, and Invite via our Facebook event page.
Click on the thumbnail below for a colour PDF poster to print.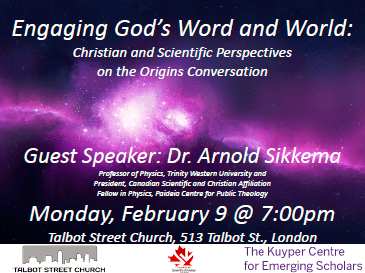 Note: The Kuyper Centre is also holding an all-day workshop from 9am-4pm, with Dr. Sikkema giving three talks with Q&A. More details (e.g. talk titles, registration details) are available here.